18. Nov 2017

Das 22. Jahresausklangfestival 2017 der Hörbar

Wie in jedem Jahr. Zwei Tage Konzerte, Plattenstände, DJs.
Konzertbeginn 22: 00 Uhr

HÖRBAR im B-Movie
Brigittenstraße 5 (Hinterhof)
Hamburg
Germany

Donnerstag, 28.12.2017 live:
Enema Syringe (Schweden)
Enema Syringe was formed in the summer of 1985 by me, Kai Parviainen and Mats Lundberg. Mats and I only recorded two songs together of which one was released on the Unweiled compilation tape.
All songs were recorded on two channels with no mixing possible. The instruments and recording equipment was a Marantz amplifier and tape deck, Prophet one, Casio rz1 drum machine, Casio toy synth, an old rhythm box and vocals through headphones or some crappy microphone.
Bandcamp
Facebook

The Dead Mauriacs (Frankreich)
The Dead Mauriacs are Olivier Prieur's art and music project. Mainly a solo act it becomes sometimes a collective with the add of nice and lovely people such as Susan Matthews, Vincent Domeyne, Thorsten Soltau, Jan Warnke, Michael Esposito…
The Dead Mauriacs' music is a journey into post-industrial landscapes, non-sensical radioplay, concrete exotica, ballardian dystopia : a joyful nightmare.
The Dead Mauriacs
Bandcamp
Blogspot

Air Cushion Finish (Berlin)
Offering something akin to inserting a tape head in your nasal cavity and running a spool across it and thru your ears, Air Cushion Finish's Flink is a marvellously trippy, poetic session of jayrope's small sound collage composition and impressionistic, wordless singing from "natural vocal synthesiser", Lippstueck.
Formed in Berlin 2007, the pairing have previously issued a pair of albums thru hamburg house of weird, Hafenschlamm Rekords, and, at the behest of GY!BE, they recorded this, their 4th album with Thierry Amar at Montreal's renowned Hotel2Tango studio in 2014. Flink was the result of those sessions, an immersively psychedelic (sweet, rather than head-frying) world unto themselves, sensitively placing Lippstueck's flighty vox - which range from Schwitters-esque gibber to avian and ecclesiastical runs - drifting around the centre of a sound sphere pieced together from intricately laced rhythmic mechanisms, reverberant dub basses and insectoid blues.
Air Cushion Finish
Bandcamp


Freitag, 29.12.2017 live:
Zoviet France (Großbritannien)
Soundcloud
Facebook

Ansgar Wilken (Berlin)
Ansgar Wilken ist ein Mann mit vielen Talenten. Eines davon: auf dem Cello improvisieren! Es wird gestrichen, gezupft und geklopft. Repetitiv und behutsam. Rhythmisch und kraftvoll. Vorbei sind die Zeiten von verstärkter Gitarre bei Ilse Lau; seit Jahren bereits arbeitet Ansgar Wilken an seinem sehr persönlichen Output. Sowohl als Musiker, als auch als bildender Künstler. Unaufgeregt und uneitel. Jenseits von cool oder uncool, jenseits von Zeit und wie diese zu klingen hat.
Ansgar Wilken is a man with many talents. One talent is to improvise with the Cello. There are different ways to use the bow, there is picking and tapping. repetitive and powerful. The times of the amplified guitar he played in the northern german band Ilse Lau are definitely gone. He is working on his very personal output since years now, as an musician and an artist also. Unagitated and modest, beyond of cool or uncool, beyond of time and how its sound has to be.
tumblr
Bandcamp
Soundcloud


08. Sep 2014
Festival 12. Sep. 2014:
Good Night Wild Bride -a gift of muzak, disco & laudanum-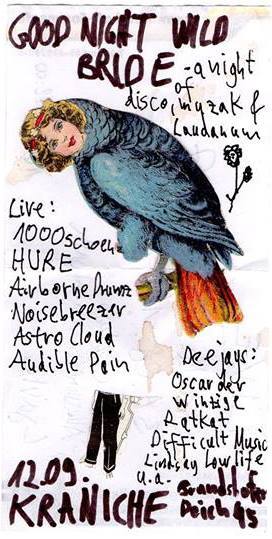 Kraniche
Brandshofer Deich 45
20539 Hamburg
Germany

live:
Airborne Drumz (GagaNOISE/Moskau)
FB
YT

HURE (GaffaNOISE/B)
Bandcamp
FB

1000Schoen (BeatNOISE/HB)
FB

Astro Cloud (PsychNOISE/HB)
Soundcloud

Noisebreezer (PopNOISE/HB)
FB

Audible Pain (IndustrialNOISE/HH)
Bandcamp
Reduktive Musiken


DJs:
Oscar der Winzige (Obscure, B),
RatKat (distiguished electronica, HH),
Difficult DJ (advanced electronica/FSK, HH),
Lindsay Lowlife (Musick, HH),
Boris the Spider (RockPop, HB),
Bruit Hugenay (Exotica, HB)


22. Nov 2013

Konzert: Audible Pain vs. Der 2te Freund / Licht-Ung

29.11.2013 21h

Hörbar (B-Movie)
Brigittenstr. 5, Hinterhof
Hamburg/St.Pauli

Der 2te Freund
Audible Pain

Licht-Ung




Audible Pain on Bandcamp!

Stream music or buy mp3's.

At the time are listed:
Phase 4
Stream the standard album. Download with the tracks of the 2nd CDr original limited to 5 copies!
TV Interference
Stream the main track. Download with the all tracks of the sold out CDr!
Silke Arp bricht [R​.​I​.​P​.​]
The Audible Pain tracks of the split with bohrmaschine privat.
Between The Manic Phases pt. I
temporarily !!!


11. Jul 2013

Radio Gagarin concert:
Wednesday, 07. August 2013:
· Jenny Gräf Sheppard (psychedelic industrial/usa)
· EPKT (guitar drone/hamburg)
Location: Hörbar, Hamburg, http://www.hoerbar-ev.de


28. Nov 2012



NEW RELEASE OUT NOW !!!



Nearly 1 month too late 11YRM is available now!
Almost all Reduktive Musiken artists send an exclusive Track for our birthday compilation.

From Drone Ambient over Abstract Sound Collages to Harsh Noise.

With: Big City Orchestra, Sudden Infant, Das Synthetische Mischgewebe, Government Alpha, Notstandskomitee, Feine Trinkers bei Pinkels daheim, Wäldchengarten, Audible Pain, TBC, Praying for Oblivion, Totstellen, Freie Hand, Bernhard Schreiner, Izanami's Labour Pain's, Mundkrach, m. stabenow, Audiophile Datenverarbeitung & Paulina Dieb

Pressed CD for only 6 euro !!!



ORDER NOW!






Don't forget our birthday special sale!



The birthday sale ends 30th November 2012 at 24h.


11 YEARS BIRTHDAY SALE






JAHRESAUSKLANGFESIVAL end of December



Meet Reduktive Musiken there!

Concerts at 28. December:
· Frieder Butzmann !!!
· Manami N.
· Das unpreetzise Klang-Labor (Y-Ton-G side project!)

Concerts at 29. December:
· Jan Jelinek
· mensch mensch mensch
· The Real Viper (Rolf Pifnitzka, Volker Havlik)